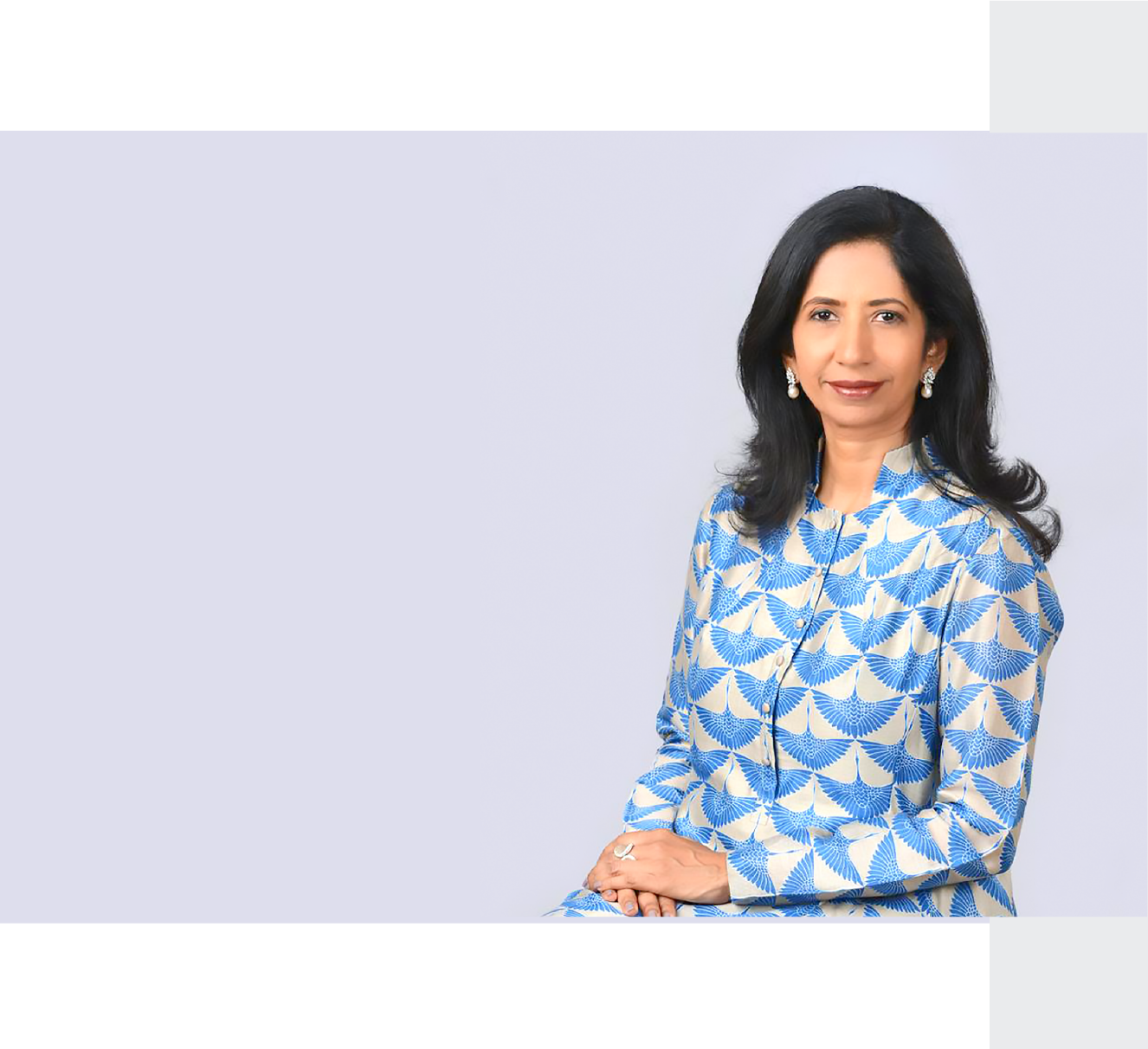 FROM THE MANAGING DIRECTOR'S DESK
Premier is an owner-managed professionally run company with its roots dating back to 1945. Backed by 75 years of experience and spanning across 3 generations, we are proud to be known as a pioneer and a leading player in the textile industry. We house state-of-the-art infrastructure with efficient automation processes which meets global standards. Being advocates of social responsibility, we focus on using renewable energy for our manufacturing and recycle over 99% of the water that is used.
We believe in "Touching Lives" and we focus on employing, educating and empowering women.
We are a 2000 odd strong team and managed by a team of technical professionals with years of experience in the Industry . We are proud to have talented leaders who are committed to high standards of integrity and accountability.
At Premier Fine Linens, our strength is our workforce.

Mrs. Shanthi Srinivasan,
Managing Director,
Premier Fine Linens.
From the managing Director's Desk
THE PREMIER STORY
Our story began in the year 1945 when a young yarn trader, V. N.Ramachandran, dared to dream. He dreamt of starting his own company and soon in 1948 he set up his first spinning mill Premier Mills manufacturing and exporting fine combed cotton yarn. In 1958, he set up a second spinning mill expanding capacity to meet the growing demand for his products.
Premier Mills further expanded and grew under the able leadership of his son Jagadish Chandran when he joined the business in 1964. Transforming the company by making sweeping changes suitable for the times, he was a pioneer to introduce a 24 hour work day in his factories setting a trend for the entire textile industry in the country. He fought against the discrimination of women in the workforce and won a landmark victory in the Madras High Court enabling women to work at night with equal rights alongside men. Residential facilities were offered to families and this changed the landscape of the skilled workforce in factories.
Jagadish Chandran moved on to establish a composite mill in Hosur with spinning, weaving, dyeing and printing with the state of the art machinery. He optimised the complex processes and systems in the organisation by developing , improving and implementing integrated systems of the various functions and thus heralded the age of Industrial engineering processes in the textile industry.
There was no looking back for Premier Mills.
Premier Fine Linens, led by Shanthi Srinivasan, continues to expand the dream and vision of the founding fathers. Today, Premier Fine Linens has a turnover of 50 million USD of the group turnover of 250 million USD. Shanthi Srinivasan grew the company to become a dominant player in the global home textile industry both in hospitality and retail, spanning across 25 countries . As online business began to take a larger share of the retail market, she envisioned and established the online brand Blue Dahlia successfully. Today, the online business offers a range of quality bed linens and has become a household name in India.
Her vision continues to expand the horizon of Premier Fine Linens as she continues to upgrade technology and automate manufacturing processes to improve quality & productivity. A completely automated sewing plant, doubling the capacity, is envisaged for 2021.
Shanthi Srinivasan believes that in these highly competitive global markets, it is not only essential but also important to have governance of outstanding quality. Continuous improvement, efficiency , integrity and accountability is built in her administration and management policy.
About Premier
Welcome to the world of Premier.
1940s
1950s
1960s
1970s
1980s
1990s
2000s
2010s
2020s
1940s
THE YEAR IT ALL BEGAN
1945
The first Spinning mill - Premier Mills was set up in Pulankinar by the Founder Mr V N Ramachandran.
1950s
1957
Expansion of capacity by adding a second spinning mill at Othakalmandapam, Coimbatore.
1958
Diversification into the hospitality industry with Hotel Ashoka in Chennai.
1960s
1964
Productivity Improvements by introducing 7 day working week, a first in the Industry.
1965
Further enhancements to productivity by introducing a 24 hour shift, a first again in the industry.
1970s
1973
Diversification and Expansion that included;

Premier Breweries was started at Kanjikode, Kerala.
1978
Travel Agency - for promoting tourism.
1980s
1981
A composite mill (dyeing, printing, spinning, weaving, and finishing) in Hosur was inaugurated by the then President of India Mr. Neelam Sanjiva Reddy in the presence of the Tamil Nadu Governor Mr. Sadiq Ali.
1981
Premier Evolvics for quality testing, on-line monitoring and services for the textile industry worldwide was started. Today the company boasts of a world-class manufacturing facility for testing equipments for textile and other industries.
1987
First export order for yarn, a milestone
1990s
1995
Premier Fine Linens started the weaving operations in Pollachi. The first in the Industry to invest in windmills to harness the power of the wind for electricity.
2000s
2000
A landmark victory for Premier, winning the rights for women in Madras High Court to have the same equal rights as men to work night shifts . A victory that the entire textile industry benefited.
2003
Sewing unit was set up at Pollachi.
2004
Shanthi Srinivasan, the current Managing Director of Premier Fine Linens joined the company.
2005
State of the art processing plant was set up in Perundurai.
2008
Set up a Showroom in Manhattan, New York.

Improving efficiency by installing the ETON transport system for sewing lines at the sewing factory
2010s
2010
Premier Fine Linens achieved a high growth in its sales and doubled its turnover.
2013
Premier Fine Linens gets its first Texprocil Gold Award for highest export turnover in the mid-size category.
2017
Premier Fine Linens launched Blue Dahlia and entered the e-commerce space in the Indian market.

Automation from cutting to finishing including folding & packing was installed at the sewing factory.
2018
Dr. K V Srinivasan Managing Director of Premier Mills was elected to the post of Chairman of The Cotton Textiles Export Promotion Council (TEXPROCIL).

Dr. K V Srinivasan was elected to the post of Vice President of International Textile Manufacturers Federation (ITMF), Zurich.
2020s
ONGOING PROJECTS
2020
Implementation of business excellence.
2022
New automated factory for Sewing and Comforter Making.

A training academy for skill development.
Heritage
PREMIER GROUP
$250+ M

ANNUAL GROUP TURNOVER

6,000+

EMPLOYEES

65%+

WOMEN

10

MANUFACTURING PLANTS

60:40

RETAIL : HOSPITALITY

40+

EXPORTS TO 40+ COUNTRIES

ERP

TAILOR MADE FULLY INTEGRATED ERP

2%

OF PROFITS SPENT ON CSR

37

TEXPROCIL AWARDS IN THE LAST 3 DECADES FOR YARNS & BED LINEN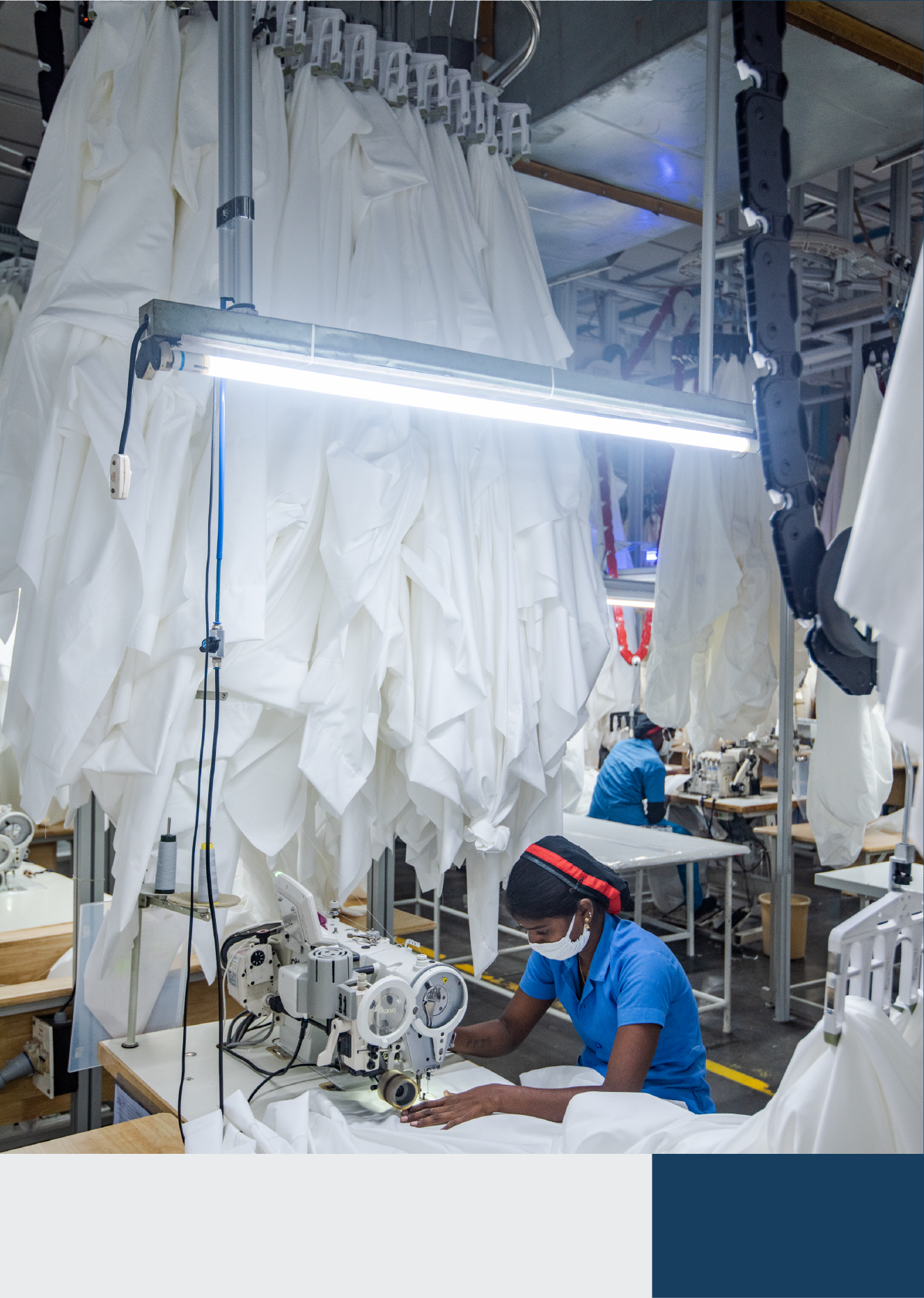 Why you should partner with Premier?
We believe in sustainability and working towards reducing our carbonfoot print in everything that we do.
We recycle over 99% of the water that is used and use over 70% of renewable energy in our manufacturing.
We are completely vertical and self-reliant from yarn spinning to making the finished product.
Our production and automation technologies are constantly upgraded and truly world class.
We are one of the very few companies that employ automation in our sewing plant which makes our manufacturing efficient and quality oriented.
We are financially robust and have a stellar reputation in the industry.
We believe in women's empowerment and focus on employing, educating and empowering women.
We are known for our R&D and innovation in fabrics, fibers, weaves, designs and functionalities.
We have over a 100 happy global customers as we are accommodative, transparent and strong in our communication and ensure a seamless buying experience.
We believe in "Touching Lives" and giving back to society and our projects in CSR are focused on medical, education and women's empowerment.
LEARN MORE
Safety is our priority

Collections